About H.E.A.T.
The Human-Environmental-Animal-Team (H.E.A.T. Establishment) is an activist organization participating in all areas of service.

You can find a place in H.E.A.T. no matter what social issues you are passionate about, whether it's helping animals, the environment, or people in need.

Many activist organizations demonize companies and people who do bad things, but H.E.A.T. rises. We strive to acknowledge the positive steps being taken in the world.

Bring the H.E.A.T.!


H.E.A.T. Expands—
We Have Chapters!
The H.E.A.T. Establishment at Texas State University is the first chapter of this service organization. Austin College recently adopted the second and most recent H.E.A.T. chapter. Check us out on the Chapters page.
Our Mission
> Local & international H.E.A.T.ed projects
> Initiating creative PR and advertising to fund sending active H.E.A.T.sters to other parts of the world
> Collaborating with all types of social, academic, and service organizations to break down barriers between students
> Assist ALL animal shelters on the No-Kill campaign
> Incorporating economic benefits into our environmental projects to provide incentive to Go Green

Every university with a H.E.A.T. chapter assists their dining halls in limiting their dependency on factory farms & push FREE-RANGE animal products*

View Trash Tree Video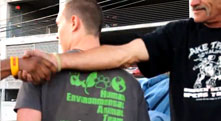 View Swipes for Homeless Video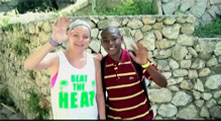 View H.E.A.T. to
Haiti Video
Keep In Touch
Connect with us on:
Facebook, Twitter, Email




Our Activities
Here are just a few examples of recent H.E.A.T. activities:
> Lung display
Collected littered cigarettes and displayed them in clear trash bags as lung art. "Pollute your body, NOT our Campus"
> Rock out with your PAWS out benefit concert
> Free range beef in all campus dining halls
> Trash Tree
Built a tree out of used cups and styrofoam plates from dinning halls
> LBJ garden renovation
> Swipes for the homeles Generated 300 free meals for Austin's homeless population
> City Council Party Bus
Changed City Council vote allowing expansion of SM Nature Center
> Clothe Colombia
Sent 6 boxes of clothes to Colombian school children
> Bastrop Fire Relief
Provided needed supplies and donations for fire victims
> SM River Clean Up
> Bobcat Build 2012
> H.E.A.T. raises $200 in one night for www.cuddlesforclaire.org

Awards
2010-2011 REGISTERED ORGANIZATION of the YEAR Boko Award
2010-2011 MOST CHALLENGING JOB SITE- Bobcat Build Boko Award
2012 H.E.A.T.-Texas State Organization Plaque placed on the H.E.A.T. garden near the high-traffic student center
2011 Cause Commotion DoSomething Club Award
2010-2011 REGISTERED ORGANIZATION of the YEAR Boko Award
2010-2011 MOST CHALLENGING JOB SITE- Bobcat Build Boko Award
.